"Madam, can you come here for one moment?" It is the evening in the end of September and I am still in the hospital. Only three days have passed since I had a C-section. My husband is not here with me. I am still confused and too many thoughts are flooding my mind. I have to deal with my little Anna, born dead. I still have to understand how to be close to Beatrice. She has been in the NICU since the day she was born and I can see her only through an incubator.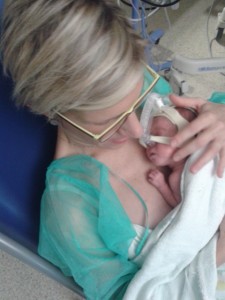 I approach the doctor's room where they tell me that Beatrice's brain ultrasound revealed that there is brain hemorrhage, by now at the second grade. The words 'brain hemorrhage' block me…I cannot follow what the doctor is saying to me even though I hear his words… but I realize that I have to because there is no one else here with me. The doctor speaks about the Intraventricular hemorrhage – IVH in the left side of Beatrice's brain. The hemorrhage could stop here or progress to the third grade and lead to hydrocephalus. He explains me the possible scenarios, he also makes a drawing to let me understand better. I am concentrated but it is not possible for me to absorb the bad news, not now.
We will have to wait till tomorrow and even if the hemorrhage stops, we still will not be able to exclude that the additional injuries will not arise during the next several weeks. I come back to my room…alone…I run out my last tears while I keep my husband and my relatives up-to-date.
The next day they tell me that luckily the hemorrhage has stopped. I am a bit more confident but I know that from now on the long wait begins – only when Beatrice will be old enough to move will I know whether she received permanent damage or not. I receive some psychological support from the association dedicated to the problems of the preemies and this is essential to allow me to make it through those 83 long days in the NICU, to better face the tensions in the family and manage Bea's older brother emotions.
When Beatrice started to crawl at 10 months old and 7 months corrected – much earlier than everybody expected, I weep with tears of joy.
After we return home from the hospital, we still have to 'work' a lot to reestablish our family's balance, to internalize and accept what has happened. However, our family actually grows stronger even though we still do not know everything about our future. Beatrice is being followed-up (until three years old) and we face it with hope, grateful for what we have today. We want to let people know that newborns' brain is a real miracle and there is still so much to be understood about it. Eubrain's aim is exactly this!